Installazione
Introduzione
Il software Go Integrator Nava è fornito come download da internet. Si tratta di un programma di installazione autonomo che contiene i file necessari per installare una copia di Go Integrator Nava.
Prima di iniziare
Prima di iniziare, controllare che si possiedano i seguenti:
A suitable computer for installation of the client software (please check minimum requirements)https://nava.gointegrator.com/system-requirements/.
A valid Access Code and user login credentials for Go Integrator Nava supplied by your Service Provider
Codice di Accesso
After completing the software installation process and depending upon the software configuration, Go Integrator Nava may present the Access Code input window on first launch. A valid access code, supplied by your service provider, is required to proceed to user login. The Access Code is only required on first launch of the Go Integrator Nava client and may have been entered during installation, in which case this window will not appear and user Login will display.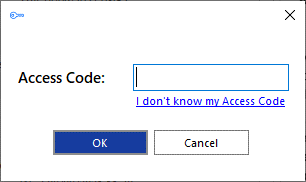 A shortcut is also placed in the Windows Start Menu program list to return to this step, if required.

Mass Deployment
Go Integrator Nava can be installed to the user desktop by silent mode using the command format: IntegratorInstaller-4.2.0.2050.exe /quiet
After silent installation, the Setup Access Code shortcut is created but Go Integrator Nava will not automatically start up.
Importing Data from Go Communicator v3
If enabled, Go Integrator Nava can offer to import configuration data from the Go Communicator v3 client. Data that can be imported includes:
User login credentials.
CRM integrations (excluding Outlook Contacts).
Nota: Integrations that have a 'Plus' version in Go Integrator Nava will still be imported as a v3 integration only, so will need to be configured again manually as a 'Plus' integration if the 'Add Contact' feature is required.
The import process takes place on first login, after the access code is entered. Refer to 'Welcome and Login' for the detailed steps.