Verwenden von Microsoft Teams Search and Call
Go Integrator Nava client should be installed and running for Search and Call for Microsoft Teams to work.
Nach Kontakten suchen
To access Search and Call for Microsoft Teams, click on the Pin labeled 'Integrator' on the App Bar.

Ein Benutzer kann anhand eines Kontaktnamens, Firmennamens oder einer Telefonnummer nach einem Kontakt suchen. This is done by typing one of these either fully or partially in the search for contacts field and pressing search.
Results will be displayed from any connected CRM and internal directories.

Display Contact
By clicking on the icon to the right of the displayed contact name, a user can pop the contact record from their CRM.

Einen Anruf tätigen
Um einen Anruf zu tätigen, klicken Sie in den Suchergebnissen auf die Telefonnummer. Dadurch wird ein Anruf innerhalb von Go Integrator Nava eingeleitet, wobei das Gerät verwendet wird, das als bevorzugtes Gerät selektiert wurde. Die anschließende Anrufsteuerung erfolgt über Go Integrator Nava.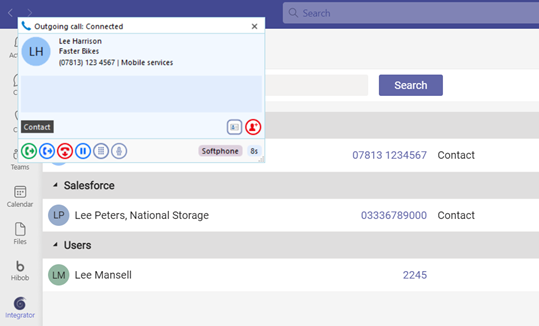 Access Go Integrator Nava Settings
Clicking on the settings icon on the top right of the Teams display, will display the settings page from Go Integrator Nava.