Toolbar
The Toolbar is a dockable user interface, allowing quick access to many core features.

Drag the toolbar to the top or bottom of the screen, then select 'dock' to set it in place: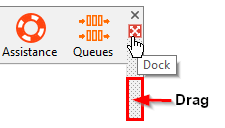 *NOTE: Select 'dock' again to reset the toolbar position.
Features
CRM Integration
The left-hand side of the toolbar displays call preview, contact popping, and extension / group / queue name information:

Call control
This provides standard Call Control features:

*NOTE: Some features will only display if the service is available to the user. Conference is not available from the toolbar.